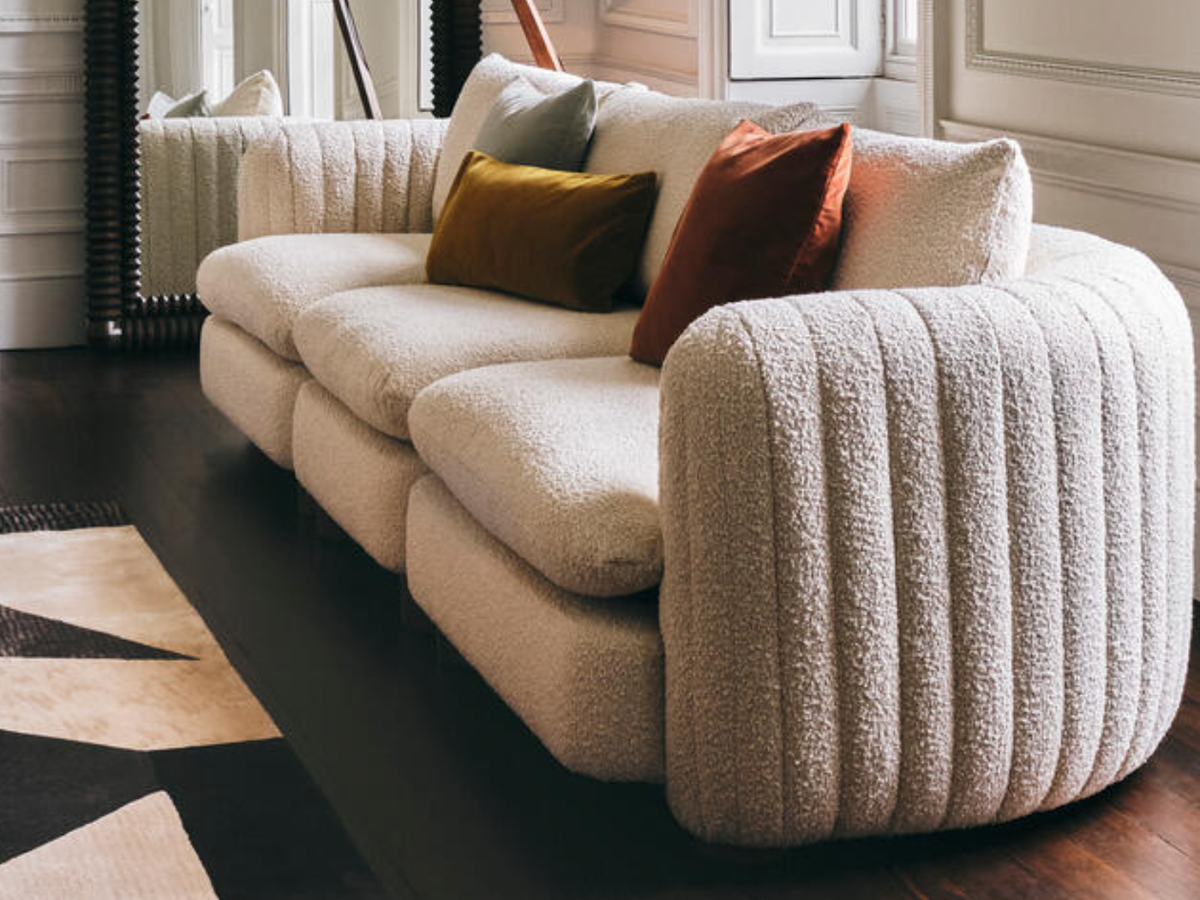 Boucle is seeing a resurgence in the home design industry. This soft, nubby fabric is versatile and easy to style, making it a highly appealing choice for furniture.
Decorating your home with a boucle modular sofa can deliver a touch of luxury and comfort to any space. A sofa is always a good idea when starting small on an emerging design trend since it requires minimal investment.
So, how do you style a boucle sofa? From using line cushions in Australia to experimenting with lighting, here are five ways to effectively fashion your boucle sofa:
Colour Coordination
Boucle is a highly versatile fabric that can complement most colours perfectly. Like many other pieces of furniture, it is essential to coordinate the accessories and the rest of the room with your boucle sofa, and vice versa.
Try experimenting with various shades to see which fits your sofa best. We recommend neutral tones if you are unsure which hues to start with. Neutral colours work well with boucle, allowing its unique texture to stand out.
Combine Textures
Speaking of texture, combining your boucle fabric sofa with contrasting textures – whether from accessories, layers, or other furniture – can help it stand out in the room and deliver balance.
For instance, linen cushions have a natural, textural quality that harmonises with the soft, plushy feel of boucle fabric, creating depth and visual interest. Smooth wood furniture or glossy metal fixtures can make a fascinating aesthetic look.
Contrast with Patterns
Besides the texture, using an array of patterns to contrast the solid colour of boucle is an excellent interior design tip. Consider mixing geometric or floral patterns to your boucle sofa for an appealing juxtaposition using patterned throws, cushions, or rugs.
Accessorise Sparingly
Your excitement with your boucle sofa may tempt you to overwhelm it with excessive accessories. Always remember that less is more with boucle fabric furniture, so use accessories sparingly.
The goal is to make your boucle's distinct appearance stand out without overthrowing the balance in the room. You can achieve this by choosing well-curated accessories like a minimalistic coffee table or elegant lamps.
Lighting Matters
The way you illuminate your space can significantly change how it appears. Using lighting strategically, you can further enhance the beauty of your boucle sofa.
We recommend using floor lamps or pendant lights to cast a warm glow and highlight the depth and comfort brought by boucle fabric. 
Transform Your Home
Are you looking for more ways to release the fullest design potential of your boucle sofa? Visit Urban Road to browse their wide selection of luxurious home decorations perfect for any interior style.